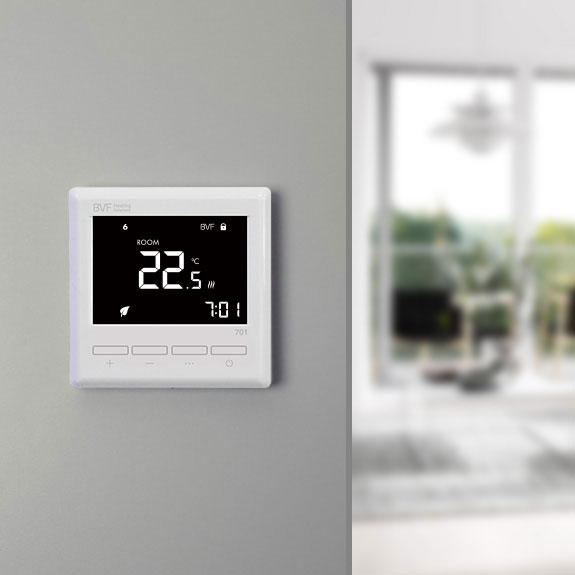 BVF 701 programmable room thermostat
The BVF 701 programmable room thermostat is suitable for controlling all types of electric heating and electric floor heating. The back panel equipped with high performance power switch, featuring the BVF thermostats, does not heat up even at extreme temperatures; real temperature sensing is more accurate than ever before.
Programmable, 4-time cycles per day
16A relay load
Air + NTC floor sensor 3m
LCD display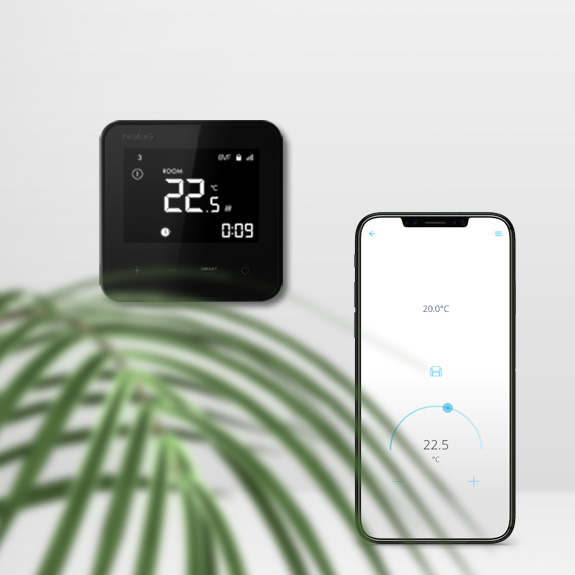 BVF HEATO9 Wi-Fi Ready thermostat
The BVF HEATO9 premium glass room thermostats operate as independently programmable room thermostats. However, if paired with BVF HEATO BOX, as smart controllers they can be accessed via any Wi-Fi or 4G network. The Heato8 thermostats communicate wirelessly inside the building, so the central control unit can be connected at any time, even after the installation of the heating.
Glass front panel
Touch button operation
Black and white colors available
Android and iOS application
Compatible with BVF HEATO BOX
Programmable, 4-time cycles per day
16A relay load
Air + NTC floor sensor 3m
LCD display (brightness set)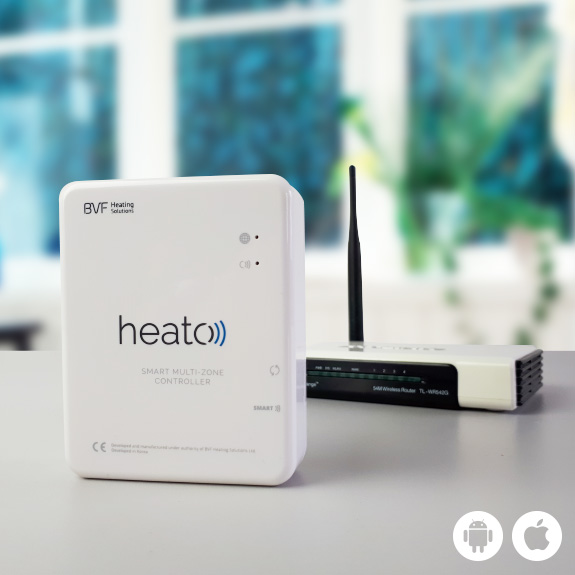 BVF Heato Box – online zone controller
8 pcs. BVF HEATO internet control of thermostat with Android and iOS applications.
The BVF Heato BOX can be easily connected to any type of routers, the installation does not require a professional, but can be done at home in just a few minutes. The user interface of the My BVF application provides convenient handling on all smart devices. Can be accessed on all smart devices running under iOS and Android.
USB cable
RJ45 standard connection with the router
2-button smart connection
8 heating circuit / thermostat control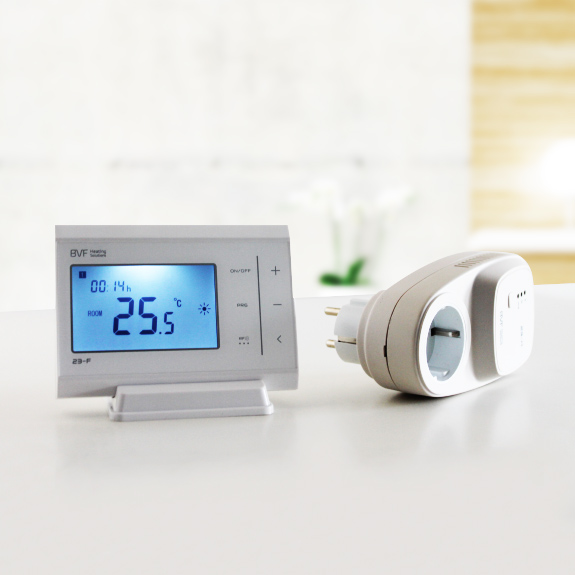 BVF 23-FA RF thermostat with mains plug
The BVF 23-FA room thermostat is the ideal solution when the transformation of the electric grid or placing a room thermostat on the wall is impossible. The thermostat consists of a receiver and a portable transmitter unit. The receiver (adapter) is standard for receiving grounded plugs, so it can also control infra panels or other electric heaters.
Programmable, 4-time cycles per day
16A relay load
Suitable for standard plugs
LCD display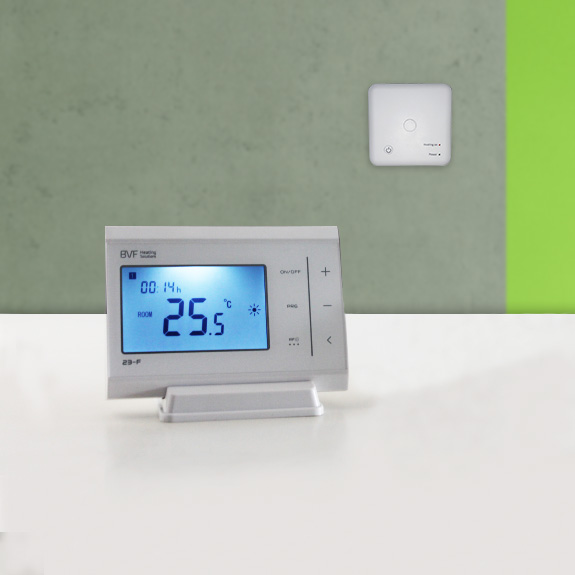 BVF 23-FX RF programmable room thermostat
We do recommend using our BVF 23FX floor-sensor equipped controller, when the room is already finished and there is no cabling option to install the controller on easily accessible ideal position at standard switching height. The receiver part may be installed at any connection point within the room. The package includes a frame for wall mounting and a desktop holder to the transmitter. 23FX is suitable for panel heaters and electric floor heating systems as well.
Programmable, 4-time cycles per day
16A relay load
Air sensor in transmitter unit + NTC floor sensor 3m
Sender + receiver
Radio signal strength up to 30m distance
LCD Display