HEATING MAT - TWIN CONDUCTOR TECHNOLOGY
Unique quality and warranty terms. BVF's high-end electric heating mats are used for heating all types ceramic tile and vinyl. Electric heating mats can be used in the installation of the heating system for complete buildings or even for the comfort heating of only one room. In the BVF cable with twin-cunductor heating element the heater wiring goes back and forth, so it has to be connected on one side only. Our products come with a 2.5m long factory-installed connection cable that has been tested multiple times.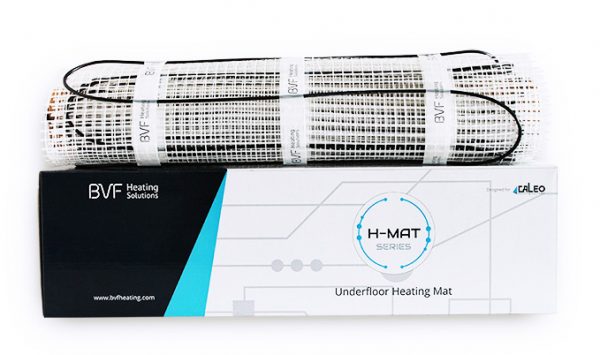 230V
Standard supply voltage
Self-adhesive
Fast and easy installation
3,8mm
Installation thickness
Heating mat installation
The thickness of the BVF H-MAT electric heating mat is only 3.8mm, so unlike conventional heating cables, it is possible to build individual and additional comfort floor heating without raising the floor level, since the tile adhesive or the floor levelling layer should be at least as thick as this.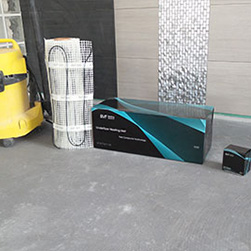 1. Dedusting of base concrete layer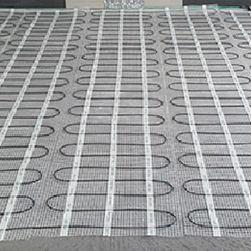 2. Laying of self-adhesive heating mat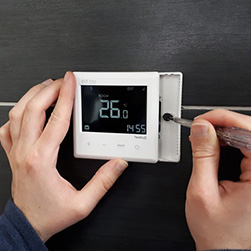 3. Wiring the dual sensor thermostat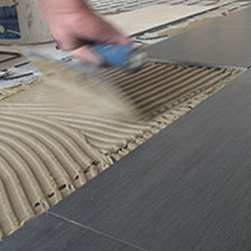 4. Finishing with flexible adhesive
Ready-made electric heating mats from 1-12m2 heating sizes. After installation, the heating mat floor heating system can be put into operation immediately, and it can be connected directly to the thermostat with a 2.5m long factory-installed connection cable. Thanks to Twin-Conductor technology, it has to be connected on one side only.
Whether it is a new heating system or only a floor replacement, the installation is easy. For bathrooms, regardless of the real heat demand, we recommend heating mats with a larger product capacity (150W/m2) for quick and dynamic heating.
By using adhesive coat, it can be installed even on existing flooring.
TECHNICAL DATA
Performance range:
100W – 150W/m²
Sizes:
1-12 m²
Heatingwire insulation:
Fluoropolymer
Thickness:
3.6mm
Wiring:
2.5m cold lead
Cover insulation:
PVC