HEATING CABLE - 10 & 20W/m
Heat storage underfloor heating installed with heating cable is perfectly suited for complete operation with the controlled (formerly called night-time) tariff. By using it, the floor can be kept warm, since after the availability time, the huge heated mass evenly emits the heat. Thanks to the intelligent floor sensor control, unlike traditional floor heating systems, no overheating occurs. BVF cable with twin-core heating element the heater wiring goes back and forth, so it has to be connected on one side only. Our products come with a 2.5m long factory-installed connection cable that has been tested multiple times.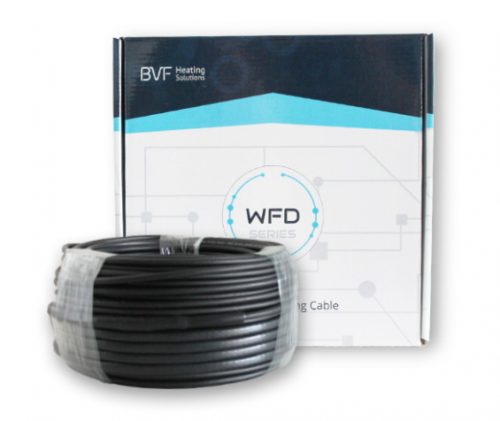 230V
Standard supply voltage
10-200m
Ready-mounted dimensions
TECHNOLOGY
Electric floor heating cable technology has a history of nearly 40 years. During this time, its main features of low investment cost and reliability haven't changed. However, the technology has undergone significant changes. The BVF heating cables are manufactured using only twin-conductor technology, which ensures better operational efficiency and longer lifetime than ever before. The heating cable technology is basically designed for underfloor heating systems, however, today a number of applications other than the general use are known (e.g. pipe heating, tempering of industrial machines and pipe handling of thermal bridges, indoor defrosting, etc.).
The installation of floor heating cables, when laying out the concrete floor, can be carried out quickly and at extremely low cost. Their operation is even more economical with the use of controlled current (discount night tariff-rate).
The BVF WFD Series twin-core heating cables have a wiring point only on one side. No complicated preliminary planning is required. The heating cable can be securely fastened to the factory equipped installation rail or to the concrete rebar mesh used to form a concrete floor. It does not require a special order of layers for installation, only under laid insulation complying with the standards in force, are required for the most economical operation.
The required heating performance per square meter can be adjusted by the spacing of the heating cables. The spacing distance depends on the heating energy demand of the building and the thickness of the base concrete.
TECHNICAL DATA
Performance:
10W/m and  20W/m
Sizes:
10 – 200m
Cable diameter:
4.8 mm
Cable type:
Double insulation, grounded
Heating wire insulation:
XLPE+PVC
Cover insulation:
LSZH