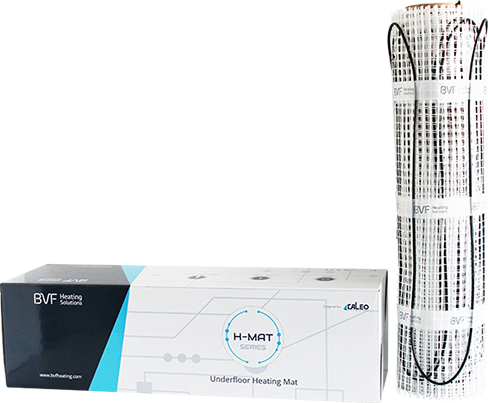 Electric heating mat
BVF H-Mat Series 100-150
with 100 and 150W/m2 capacity
10 years extended warranty
Can be used in a bathroom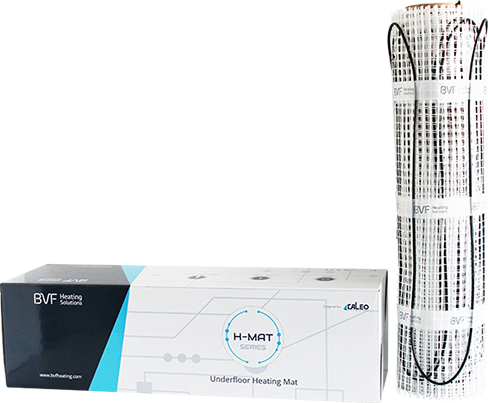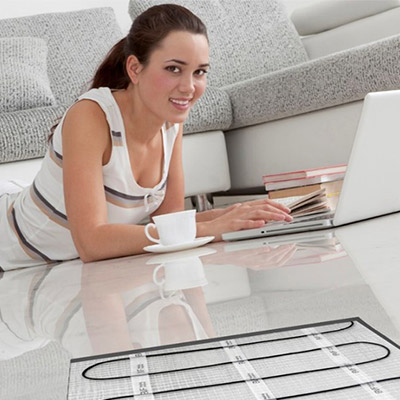 Modern homes with electric floor heating
Using the BVF H-MAT product range, the installation of floor heating is simpler and faster than ever before. Our floor heating system for full, additional and comfort heating does not require any special preparation either during the tiling or the construction of an electrical network.
In contrast to traditional floor heating, electric heating mats are not embedded in the blind concrete layer but in the tile adhesive. This significantly shortens the time needed for heating; therefore; overheating due to the mass of the concrete can be avoided.
Twin conductor technology - innovative heating cable
Unique quality and warranty terms. BVF's high-end electric heating mats are used for heating all types of bonded and tiled flooring quickly and economically. Electric heating mats can be used in the installation of the heating system for complete buildings or even for the comfort heating of only one room. In the BVF cable with twin-core heating element the heater wiring goes back and forth, so it has to be connected on one side only. Our products come with a 2.5m long factory-installed connection cable that has been tested multiple times.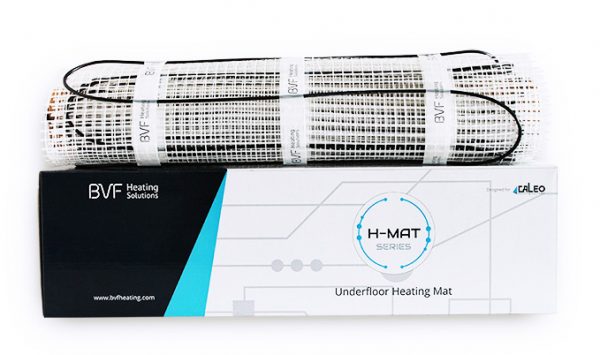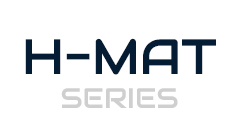 230V
Standard supply voltage
Self-adhesive
Fast and easy installation
3,8mm
Installation thickness
Heating mat installation
The thickness of the BVF H-MAT electric heating mat is only 3.8mm, so unlike conventional heating cables, it is possible to build individual and additional comfort floor heating without raising the floor level, since the tile adhesive or the floor levelling layer should be at least as thick as this.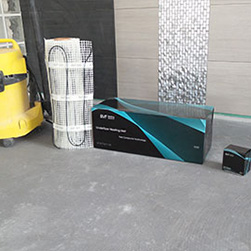 1. Dedusting of base concrete layer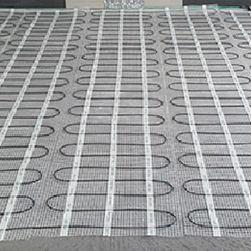 2. Laying of self-adhesive heating mat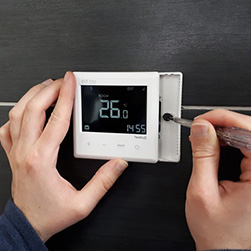 3. Wiring the dual sensor thermostat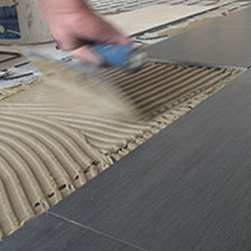 4. Finishing with flexible adhesive
Ready-made electric heating mats from 1-12m2 heating sizes. After installation, the heating mat floor heating system can be put into operation immediately, and it can be connected directly to the thermostat with a 2.5m long factory-installed connection cable. Thanks to Twin-Conductor technology, it has to be connected on one side only.
Whether it is a new heating system or only a floor replacement, the installation is easy. For bathrooms, regardless of the real heat demand, we recommend heating mats with a larger product capacity (150W/m2) for quick and dynamic heating.
By using adhesive coat, it can be installed even on existing flooring.
Order of layers for heating mat
BVF H-MAT electric heating mats do not require a special layer system when tiling. But before starting, it is advisable to prepare the leveling of the blind concrete, or the heating mat can be installed directly by using flexible tile adhesive.
The flexible carrier layer can easily be adapted to the floor plan dimensions of the room, the 50cm width is therefore only a packaging dimension. Its self-adhesive surface securely fixes the heating mat in place during the tiling.
Fast and simple solution
The BVF H-MAT twin core heating mats have connection point only on one side. There is no need for any complicated preliminary design, nor for special order of layers for the installation. Only bottom insulation, complying with the standards in force, is required for the most economical operation. It can be laid directly on the concrete floor and can be covered with either tile adhesive or a concrete levelling compound layer.
Maintenance free
BVF electric mats do not require maintenance or hidden warranty reviews. They can be put into operation immediately after installation/handover; and due to their multiple insulation, they can be completely detached from environmental influences (e.g. wetting of the base concrete, water pipe breakage, etc.). At the end of the heating season, the heating system can be disconnected by simply pressing a thermostat button, and started again by switching on the thermostat and setting the desired temperature.
Smart control
The BVF H-MAT heating mats are always controlled by a double-sensor thermostat, from simple programmable designs to remote Internet access devices. Learn more about BVF thermostats.
Performance range:
100W – 150W/m²
Sizes:
1-12 m²
Insulation of heating cables:
Double insulation
Thickness:
3.8mm
Wiring:
2.5m long cold cable
Cover insulation:
Fluoropolymer