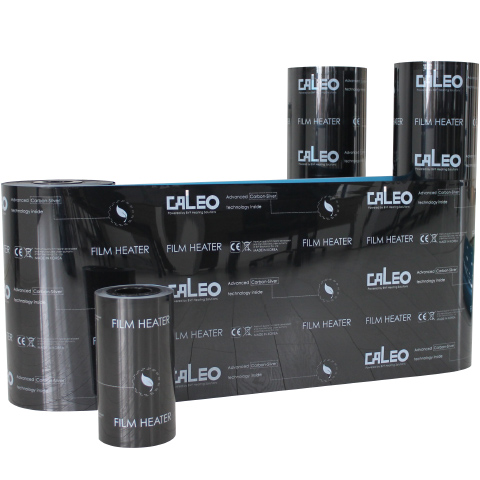 CALEO - The Original
Heating Film
The only heating film with CNT SMART technology.
Intelligent power optimization
For floor and ceiling heating
5 + 5 years warranty
80-130-160W/m2 performance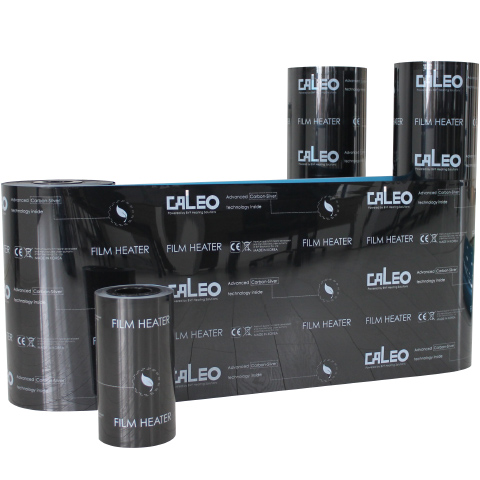 Floor and ceiling heating
CALEO CNT heating films are available in different sizes and performance for the installation of surface heating systems. Types with lower performance of 80 and 130W are suitable for underfloor heating, while the high-performance CNT30 product range of 160W/m2 can only be installed as wall and ceiling heating. Heating film technology is a unique opportunity for modern building industry and building engineering.

Post-construction floor heating. Using heating film, it is possible to install independent heating systems or even the comfort heating of just one room quickly and at low investment costs. Extra-thin installation layers allow for creating a surface heating without the demolition of the existing concrete.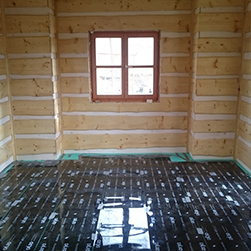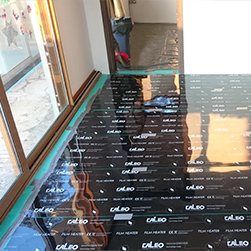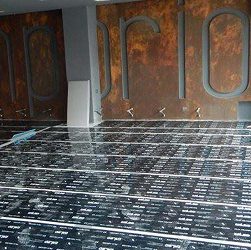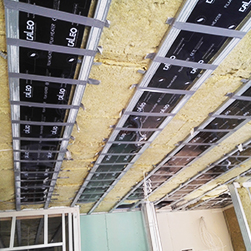 The new heating film - CNT Smart technology
After developing the heating foil product in 2005, in 2008 BVF-CALEO holding, contrary to other producers, decided to avoid spending its resources on the unreliable, "self-regulating", so-called PTC technology, and turned towards the distinctively different CNT (carbon Nano tube) system development process with the active cooperation of engineers from Japan and South-Korea. Practical experiences have proven us.
A nearly seven-year development process has resulted in a patented technology that no other manufacturer has been able to catch up with so far. Our technology has not only achieved significant efficiency gains, but it has become a benchmark for operational safety and extreme load capacity.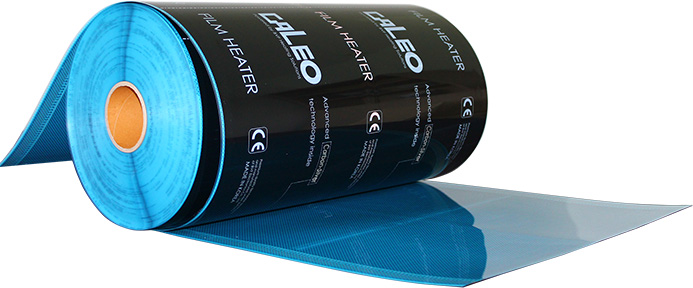 230V
Standard supply voltage
CNT Technology
Unlimited lifetime
30-50-80cm
Factory-made width
6mm
Installation thickness with thermal insulation
No more heating foil
Learn more about BVF-CALEO's latest surface heating technology that replaces the "old heating film", which had been developed since 2005 through 4 generation types. In the production technology, the use of the CNT (carbon Nano tube) heat exchanger with extreme load capacity is a real innovation.
The brand new CALEO 80-130 heating film, which complies with all European requirements and standards, provides a more economical and safe operation when compared to conventional electric floor heating and heating films.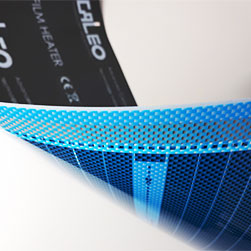 Extreme load capacity already in 0,4mm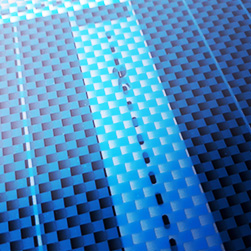 Design cuttable
by 25cm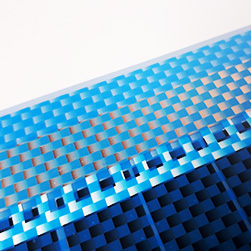 Patented
silver mesh
On both sides of the CALEO heating film, there are high purity copper conductors attached to a Nano-tech heating element through a patented trapezoid-silver mesh. Electrical resistance is generated between the two conductors, which warms up the special carbon heating element to its optimum temperature depending on the performance. The heating film transfers its own heat to the flooring through heat transfer / heat conduction.
CALEO heating films consist of five layers and basically 4 main components. The production of these components from carefully selected raw materials, their treatment in a heat chamber, as well as the high quality laminating of the layers are indispensable requirements for producing a robust final product. The quality of raw materials and Nano-technological printing also play an important role in achieving maximum efficiency.
Comparison
Following the development of the heating foil product in 2005, BVF-CALEO holding in 2008, contrary to other producers, decided to avoid spending its resources for the, unreliable, "self-regulating", so-called PTC technology, and turned towards the distinctively different CNT (carbon nano tube) system development process with the active cooperation of engineers from Japan and South-Korea. Practical experiences have proven us.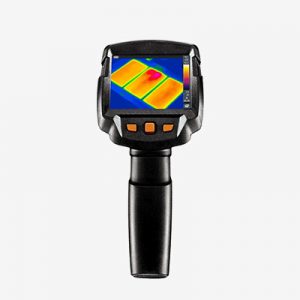 Standard heating films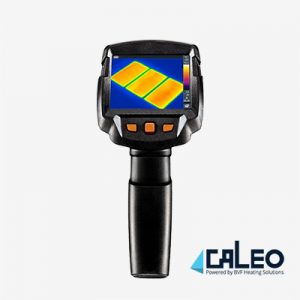 CALEO Heating Film
STANDARD
FILM HEATERS
CALEO
HEATING FILM
HEATING SURFACE
80%
92%
HEATING SURFACE TEMPERATURE
HIGHER AT CARBON LINE
EVEN SURFACE TEMPEREATURE
LAMINATION
2X PET + EVA
4X PET + EVA
WING SIZE
15mm
10mm ONLY
CARBON-SILVER COMPOUND
STANDARD CARBON SHEET
CNT TECHNOLOGY (CARBON NANO TUBE)
COPPER LOAD CAPACITY
COPPER 6A
HIGH DENSITY PURE COPPER BUS BAR 8A
EFFICIENCY
HIGH 98%
HIGHEST 99,8 %
ELECTRIC SAFETY
STANDARD
REDUCED LEAKING CURRENT (LESS THAN 0,15mA / m2)
WARMING-UP SPEED
NORMAL
FASTER BY BIGGER HEATING SURFACE AND LOWER WING SIZE
LIFETIME
SEMI-PERMANENT
PERMANENT
Floor heating installation with Heating Film
Fast and flexible work. The installation of the heating film systems is always carried out by a manufacturer-qualified specialist, who follows a strict layout. When designing an independent heating system, prior to construction the calculation of the required capacity per square meter is also the responsibility of a specialist.
1. Providing a dry, dust-free concrete surface
2. Positioning of thermal insulation sheets
3. Placement of heating film according to plans
4. Creating and testing factory-grade connections
5. Connecting thermostat and floor sensor
6. Fixing a vapor barrier layer
7. Preparation of a measurement report – ready for tiling
Performance range:
80W – 130W – 160W/m²
Width:
30-50-80-100 cm
Insulation:
Double insulation
Frequently Asked Questions
DOES IT FULLY HEAT UP THE ROOMS?
Yes, naturally it does. Electric floor heating installed with heating film can heat up everything that can be heated up by traditional water circulation floor heating. Nevertheless, it can be also used for more comfort or as additional heating by means of setting the performance and the thermostat. In the case of doors and windows with big surfaces, the installation of perimeter heating is reasonable. In such cases, heating films with higher performance are installed below the cooling structures.
WHAT IS THE MONTHLY CONSUMPTION OF FLOOR HEATING?
Heating does not have individual consumption. The heated building has an energy demand, which can be determined at a yearly level, with the same calculation that is used for the preparation of energy certificates. Expected heating costs can be determined based on the thermal insulation values of the walls, floors and doors and windows, even with a precision of 5%.
CAN I PLACE FURNITURE ON FLOOR HEATING?
Yes, you can. CNT smart technology allows heating films to be operated in the long run in a covered state, directly under the covers. The use of CALEO products allows free interior design. The place of fixed built-in furniture (kitchen counter, built-in wardrobe) can be deducted from the area to be laid already during the design work.
CAN I INSTALL HEATING FILMS UNDER STONE COVERS OR FLOOR TILES?
No, you can't. The tile adhesive cannot bind on plastic (PET) surfaces as this would result in a surface that cannot be covered. Heating films are suitable for the heating of dry construction or click system covers (laminate flooring, strip parquet or over ceiling plasterboard). Floor tiles, carpets and vinyl covers are heated by special electric heating mats optimized for this purpose.
WHAT IS THE EXPECTED SERVICE LIFE OF HEATING FILMS IN YEARS?
Without any mechanical damage, CALEO CNT heating films have an unlimited life. This means minimum 50 heating seasons even without a decrease in performance, which is many times more than the obsolescence time of an average building engineering system. During the above period it does not need revisions under guarantee or maintenance.
WHAT WILL THE TEMPERATURE OF THE HEATED FLOOR BE, AND HOW QUICKLY IS IT REACHED?
Relevant standards do not distinguish electric and water circulation floor heating. Pursuant to the above globally accepted health limit values, floor temperature should be between 29 and 31°C. Heating time is short, it varies between 15 and 45 minutes, which also depends on the initial and current temperature of the room.
WHEN IS CEILING HEATING BETTER THAN FLOOR HEATING?
Presently there is no heating solution that is better from a heat technical aspect and more comfortable than floor heating. Ceiling heating is recommended in buildings where very low installed performance is needed (AA+, nearly passive or certified passive house), and in light-structure buildings where plasterboard suspended ceilings are part of the construction.
Ceiling heating is also reasonable in the cases of overfurnitured rooms as in such cases the floor cannot provide a sufficient exothermic surface because beds and cupboards cover at least 60% of the floor, or when you choose a cover that is incompatible with floor heating, e.g.: bamboo, carpet.
Combined systems: Each room is an independent heating circuit so the concerned building can include both floor and ceiling heating according to your needs.