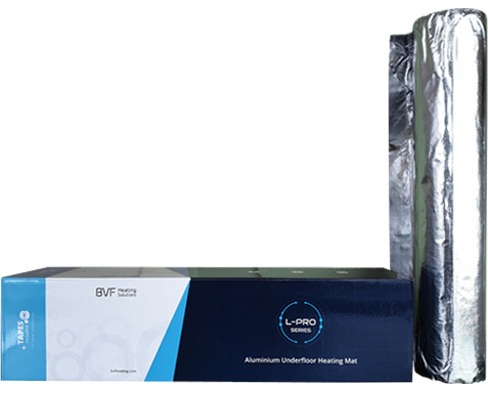 Heating of laminate flooring
BVF L-PRO Series 100
It can be implemented without raising the floor level. Easy-to-install electric floor heating for laminate flooring, strip parquet, vinyl and other floating covers. Learn more about the use of the latest heating carpet technology for the implementation of independent and comfort heating.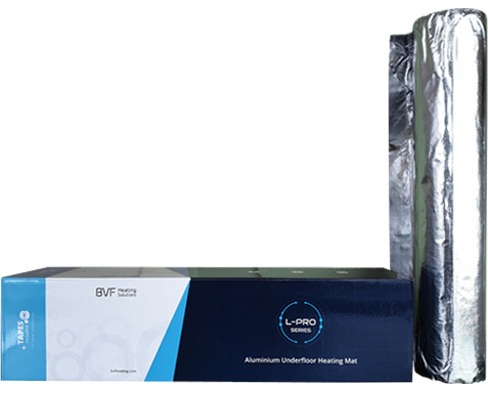 Floor heating in a minute also through D.I.Y. Installation
Complete floor heating that can be installed even during cover replacement or before floor covering. Its implementation does not need special expertise or tools: the aluminium heating carpet is factory fitted, it only needs to be connected to the thermostat. The heating carpet with L-PRO aluminium texture provides a heat conduction that is more even than ever and it allows an electromagnetic shielding for the whole surface to achieve maximum comfort. It is ideal for the heating of rooms with a small and big floor area, and its thermostat control is suitable for the heating of almost all floating type covers. What is floating cover? It is a cover type that is not implemented with an adhesive technology but its panels or elements are joined together.
Dual layer technology – innovative heating carpet
The lower aluminium layer with carbon texture is to allow even heat loss, reflection of radiating heat, as well as it provides mechanical protection.
The upper layer has an even more important task. It provides heat conduction among the cables, provides mechanical protection against damages, and also allows grounding and shielding for the whole surface to achieve safe operation.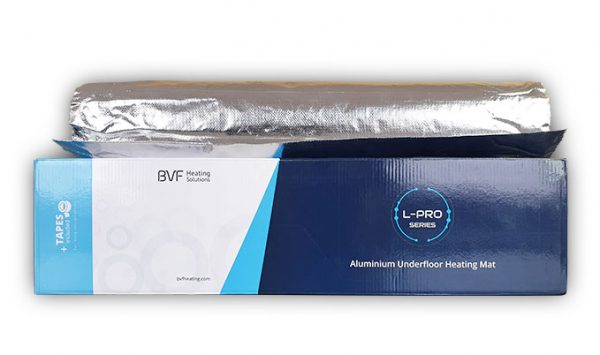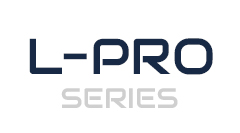 230V
Standard supply voltage
Ready to installSizes from 2 to 12m2
3,0mm
Installation thickness
Floor temperature and selection of the proper cover
Design principles do not differ from those of traditional floor heating with water in the case of electric floor heating either. Optimal cover temperature is provided by the factory set performance and the thermostat sensor built in the floor. For comfort floor heating, floor surface temperature should be kept between 25-28°C, whereas for independent heating, it should be limited between 29-30°C, similarly to traditional floor heating.
When selecting the cover, only three factors should be observed:
It should not be a glued cover
Its heat conduction should
not be lower than 0.15 w/(mk) (λ)
Its thickness should
not over 14mm
Ready-fitted electric heating carpets up to 2-12m2. The heating carpet floor heating system can be immediately put into operation after laying. It can be directly connected to thermostat with the help of its 2.5 metre factory fitted connecting cable. Due to its Twin-conductor technology, connection is needed on only one side.
If the room area exceeds 12m2, more than one L-PRO carpet should be installed and connected in parallel.
Design and laying principles
The factory thickness of the electric heating carpet with aluminium texture is 50cm. Naturally, carpets can be perpendicular to one another when laid (unrolled), which should happen based on a preliminary laying scheme/concept in every case. This means that the 50 cm width is only a packaging dimension that can be easily adapted to any floor area dimension.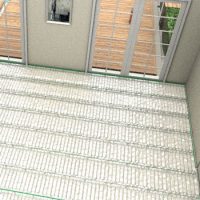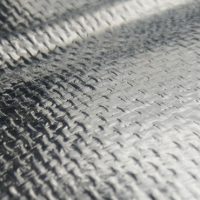 Why is double-layer aluminium texture needed?
The answer may seem simple: it functions as a heat mirror. Nevertheless, the answer is that it has several functions. The lower aluminium layer with carbon texture is responsible for even heat loss, the reflection of radiating heat, and it also provides mechanical protection. The upper layer has an even more important task. It is also to provide heat conduction among the cables, mechanical protection against damages, as well as to grounding and shielding for the whole surface. The electric heating carpet is a 100% electrosmog-free product.
Safe
BVF L-PRO electric floor heating system complies with all EU directives and standards. It has the certificates needed for installation. The heating carpet is grounded and shielded on its whole surface, its operation now is safer than ever, and its installation is easier due to the extra-thin design.
Warranty and life
BVF L-PRO has an exceptionally long warranty period of 10 years, with an unlimited manufacturer's warranty. Product warranty does not need installation by BVF experts. The life of electric heating cables and carpets is exceptional even in modern building engineering. The service life without resistance change is minimum 40-50 years. In the case of a cover replacement, the installed heating system will not be damaged, it can be removed and relocated without losing the warranty. The BVF L-PRO aluminium heating carpet is a 100% care and maintenance-free building engineering system / floor heating.
Recommended control
The electric floor heating is controlled by double-sensor thermostat. The sensor built in the thermostat measures air temperature, whereas the floor sensor optimizes and limits the cover temperature. If you install the electric floor heating for additional / comfort purposes, the thermostat should be set in "SURFACE" (superficial or floor sensor) position. This way through the display you can see, set and program only the temperature of the comfort floor.
Performance range:
100W/m²
Sizes:
2-12 m²
Insulation of heating cables:
Double insulation
Thickness:
1mm
Wiring:
2.5m long cold cable
Cover insulation:
Fluoropolymer